Town Center Capital Campaign will build a stronger community
Monday, May 9, 2016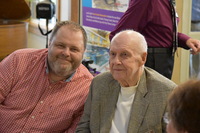 The Town Center Capital Campaign Kick-Off took place Wednesday, May 4, with the crowd spilling out of the Bistro and into The Laurel Lake Commons. Among the guests were board members from the Operating and Foundation boards as well as Denver-based Concept Architect for the Town Center project, Shekhar Bhushan.
Sister Maryann Golonka, chair of The Laurel Lake Foundation recognized the robust turn out and acknowledged the guests of honor, resident Mike Collins and his nephew Marc Canterbury. She went on to announce the terrific news that Mike and his family have stepped forward to lead the way to a $1.5 million dollar campaign goal with a gift of $500,000.
Early on Mike approached The Laurel Lake Foundation with his interest in helping see the Town Center project come to fruition, sighting his confidence in the philosophy and positive history of Laurel Lake and the Foundation.
After expressing deep gratitude on behalf of The Laurel Lake Foundation to Mike and Marc, Sister Maryann addressed the crowd gathered in front of her, "Now, we are extending a challenge to you and others to stand shoulder to shoulder with the Collins family and support the Town Center Capital Campaign as generously as you can. This Capital Campaign and Town Center project signify a milestone in the history of Laurel Lake, requiring more from all of us than ever before!"
The entire Town Center project includes the Bistro and Colony Shop, the Arts and Crafts Studio, the Therapy Center, the Main Street Renovation and the Wellness Spa with the Pool, Fitness Center and Salon.
With the Bistro and Colony Shop complete, transformation of the Therapy Center, the Arts and Crafts Studio and Main Street is underway. Funds generated through the Capital Campaign will be used where needed most within the overall Town Center project.
Liz Murphy, Foundation Board secretary discussed the Campaign display located just inside Laurel Lake's front doors. "As Campaign gifts are received, and we come closer and closer to our $1.5 million dollar goal, we will begin to reveal the next exciting phase of the project…the Wellness Spa, noted Liz. Marc Canterbury carried out the honor of revealing the first section of the Wellness Spa on the display with a great round of applause.
Over the next few days, Foundation constituents will begin to receive more information about the Capital Campaign in the mail and on Laurel Lake's in-house television channels 126-1851 and 1852.
Keep track of the Capital Campaign progress. Attend the Reveal Celebrations and gather around the Campaign Display on May 11, 18 and 25 at 4:30 p.m. in the Laurel Lake Commons. For more information, contact The Laurel Lake Foundation at 330-655-1424.