Greenwood Assisted Living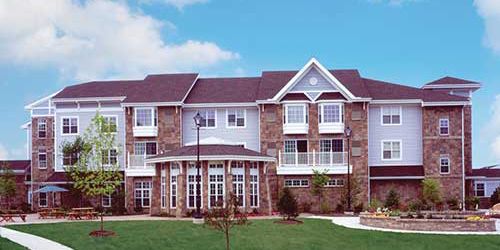 ADMISSIONS - 330-655-1431 MAIN DESK - 330-650-0681
Assisted living and memory-supportive care at Laurel Lake are offered in our beautiful Greenwood neighborhood. Designed to promote maximum enjoyment of life, Greenwood offers flexible choices for individuals and couples who need extra support with daily living activities.
greenwood's unique advantages
Variety of Home Styles. Greenwood offers studio, one-bedroom and two-bedroom apartments with kitchenettes, bathrooms with safety aids, cable TV and wireless internet. Another housing option, Greenwood Suites, has private suites which open out into a centrally shared living area with living room, dining room, kitchen, sunroom and a private enclosed courtyard.
Person Centered Care. Laurel Lake's caring, professional staff evaluates each person's needs to deliver just the right amount of support for daily living activities such as bathing, dressing, and medication reminders.
Programs That Inspire. Here in this multi-level retirement community, Laurel Lake's award-winning team of recreational therapists design meaningful activities that enrich the mind, body and spirit. Residents can participate in over 100 classes, clubs and interest groups, keeping them connected to life, learning, and the arts.
Three Meals A Day. Our restaurant-style dining room, The Greenwood Grille, offers fireside and terrace seating with an extensive daily menu. Other dining venues at Laurel Lake include The Lakeside Room and The Bistro & Pub.
Housekeeping / Laundry Services.
24-Hour Emergency Call System. Security and medical staff are on duty 24 hours a day and can respond immediately to any emergency situation. Laurel Lake's entire 150-acre campus is also covered by a state-of-the-art wireless emergency call system.
Wellness Programs. Laurel Lake offers a wide variety of guided fitness classes in Laurel Lake's Fitness & Aquatic Center, along with on-site medical, skilled nursing and rehabilitation services.
Transportation. For personal errands, doctor appointments, day trips.
Family Lounges. With family-style kitchen, dining and sitting areas.
Outdoor Recreational Areas. Laurel Lake's beautiful 150 acre campus has many sheltered courtyards and gardens, as well as a handicap-accessible practice golf course, picnic shelters, fishing lakes, and paved nature paths.

Greenwood is an active affiliate of Second Wind Dreams, the national organization dedicated to fulfilling the hopes and dreams of individuals living in eldercare settings.
call us today!
To learn more about Greenwood assisted living and memory supportive-care at Laurel Lake, or to schedule a personal tour, please call 330-655-1431 or email us today.