Laurel Lake announces plans to bring CATIE touchscreen technology to residents
Friday, June 21, 2019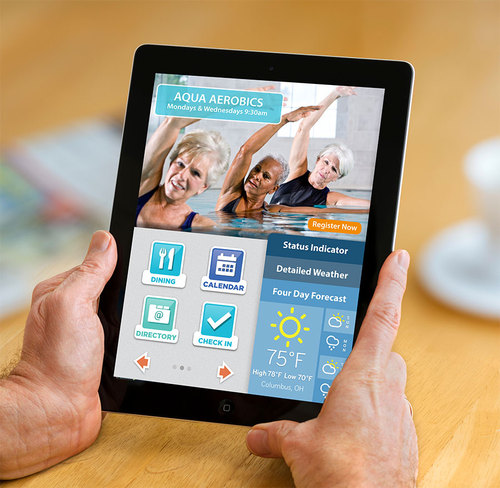 Laurel Lake Retirement Community is pleased to announce that it will partner with Status Solutions to bring CATIE touchscreen technology to residents this Fall.
CATIE (Communication and Access to Information Everywhere), designed by Status Solutions, is an Apple iPad-based approach to enhanced customer service and communication. Using portable in-home touchscreen tablets, Laurel Lake residents will be able to enjoy easier access to the information and services that can make their lives better — all at the touch of a button.
The new CATIE tablets will become a "smart hub" for Laurel Lake homes, serving as an intercom, message center, electronic bulletin board and concierge.
When fully enabled, CATIE will allow residents to:
Access Resident and Staff Directories and communicate via intercom.
Email with friends and family using a unique @mycatie.com email address.
Receive photos and save them in a photo gallery.
View dining menus, make reservations, and more.
Access event calendars and sign up for activities.
Place housekeeping, maintenance, transportation and other service requests.
Know when the U.S. mail has arrived.
Read the Friday Flash weekly newsletter and other campus publications.
Watch videos of Town Halls, training videos and other recorded campus events on demand.
Check the weather and view the four-day forecast.
Be notified of safety and security alerts, including severe weather warnings or campus construction advisories.
Check-in each morning with the push of a button, to let staff know they're okay.
Engage in games and other brain fitness activities.
Access a "Green Pages" directory of local businesses/resources.
There will be plenty of training and support for residents along the way. Introductory, small-group CATIE classes will help residents learn the basics of the new system. After the initial training, ongoing daily support will be provided by resident and staff CATIE "experts" who will be on call to answer questions and demonstrate system features any time a resident asks.
"Of all the systems we looked at, CATIE is by far the easiest to use," says Loretta Stevens, Laurel Lake CFO. "It has been designed specifically for older adults, with a bright screen, large icons and a very intuitive format. Residents won't even need to log in – each tablet will have its own docking station for charging, and is always active and ready to use."
In the initial roll-out, Laurel Lake plans to place CATIE touchscreen tablets in all 289 of its independent living residences, including Eastwood and Westwood apartments and the Villas. Residents of Laurel Lake's Greenwood assisted living and Crown Center skilled nursing neighborhoods will be offered the new technology at a later time.
Laurel Lake residents aren't the only ones excited about bringing this new technology to campus. The management team believes the new system will not only enhance the lives of residents, but also make life easier for its hardworking staff.
With CATIE, staff can more efficiently handle service requests, meal preparation, event planning, and most importantly, respond to the health and safety needs of residents. Group notifications sent to residents' CATIE devices can range from severe weather alerts to campus construction advisories, and can be pushed out in a matter of minutes. With CATIE, staff can ensure residents have the most up-to-date information regarding meals and activities. Digitizing the menus and activity calendars will not only save printing costs and distribution time, but also enable staff to communicate changes in real time as they occur. In addition, residents can submit digital service requests for housekeeping or maintenance, providing service staff with a more efficient and centralized way to manage facility needs.
"We anticipate an even stronger connection with our residents with the integration of CATIE at Laurel Lake," says David Oster, Laurel Lake CEO.
"Our most recent satisfaction survey revealed that 80% of Laurel Lake residents already use digital technology on a daily basis. The next generation of residents will be even more comfortable using these devices. We are confident that CATIE will improve communication, workflow and service at Laurel Lake."
For more information, contact Donna Anderson at 330-655-1436 or info@laurellake.org.