Laurel Lake opens new Salon, Fitness & Aquatic Center
Saturday, February 17, 2018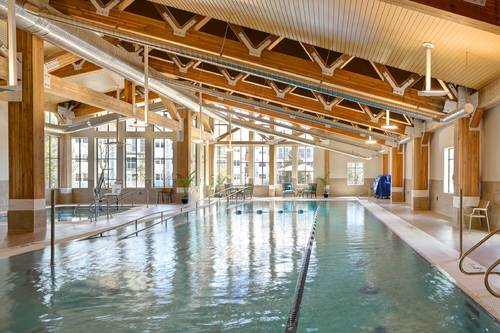 Laurel Lake Retirement Community is excited to announce the opening of its brand new Salon, Fitness & Aquatic Center!
Residents of the not-for-profit retirement community, nestled on 150 scenic acres just a mile from downtown Hudson, are now finding plenty of fresh inspiration to stay healthy, active and independent. Construction of the beautiful new center — Phase III of Laurel Lake's $7.3 million dollar, 3-year Town Center Expansion project — is now complete. At 11,500 square feet, the center more than doubles Laurel Lake's dedicated wellness facilities.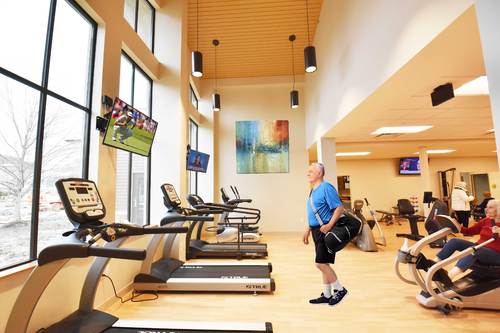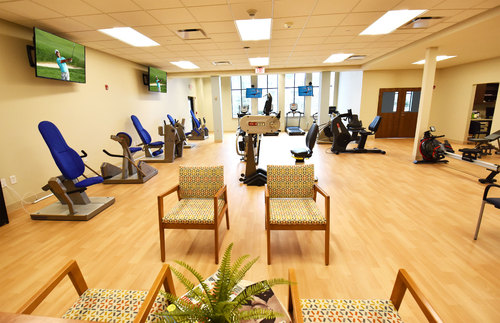 Building strength for daily living is easier than ever in the spacious new Fitness Center, which has plenty of floor space for an expanded line of "smart" exercise equipment. Laurel Lake's team of fitness instructors stands ready to help residents adapt to the state-of-the-art equipment and adjust their fitness regimens to take advantage of the new offerings.
Floor-to-ceiling windows offer amazing year-round views of the Greenwood Courtyard, while ceiling-mounted TVs make longer workouts on treadmills, recumbent cross-trainers or the new rowing or elliptical machines more appealing.
In the newly opened Aerobics Studio, residents can take group exercise classes in a more private, dedicated space large enough to accommodate 60 "on the move" individuals. Aerobics, Yoga, Tai Chi, and personal training sessions will be offered in this new space.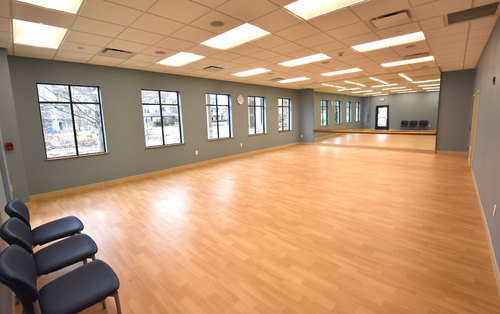 In the Aquatic Center, swimmers can enter Laurel Lake's new 60-foot Exercise Pool effortlessly using a "zero entry" ramp. The big pool's flexible design easily accommodates lap swimmers, water aerobics classes, and family fun when the kids and grandkids come to visit. The new 20-foot Warm Water Therapy Pool is ideal for relaxation and one-on-one aquatic therapy sessions.
Floor-to-ceiling windows in the Aquatic Center create a lodge-like outdoor feeling all year long.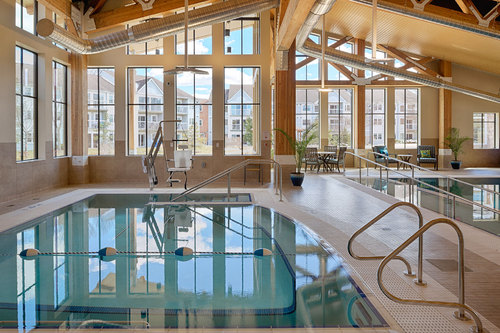 The pools have another advantage that you can't really see, but swimmers definitely notice. Both pools are equipped with state-of-the-art ultraviolet (UV) treatment systems that kill about 99 percent of harmful organisms, including micro-organisms, viruses, bacteria and algae. The systems allow Laurel Lake to use considerably less chorine.
In the modern new Salon, residents can choose from a menu of rejuvenating personal care services—manicures, pedicures, facials, color, cut, and style—to look and feel their best.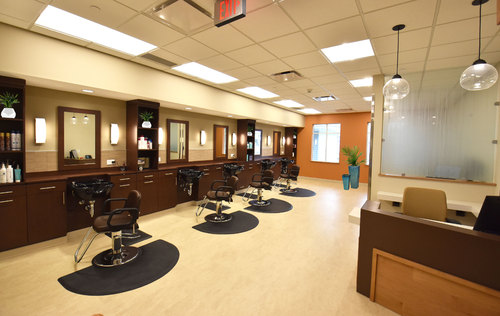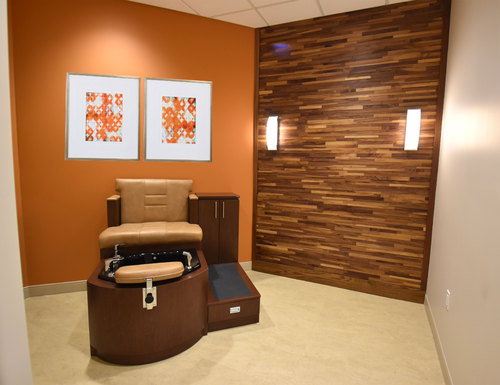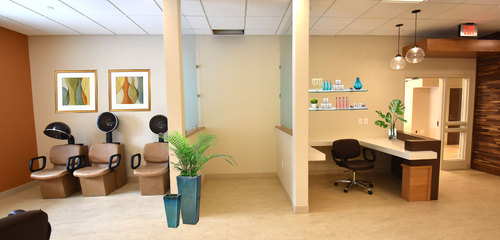 Laurel Lake has worked with concept architect Shekhar Bhushan of SB Architecture in Centennial, CO, Principal in Charge Jim Wallis at Perspectus Architecture of Cleveland, and Hudson-based Augere Construction on the Town Center Expansion project.
Planning for the fourth and final phase - the expansion and renovation of Laurel Lake's Community Room, Mixing Place and former Pub - is now underway.