Laurel Lake to break ground for new Bistro, Pub & Colony Shop in May
Friday, October 10, 2014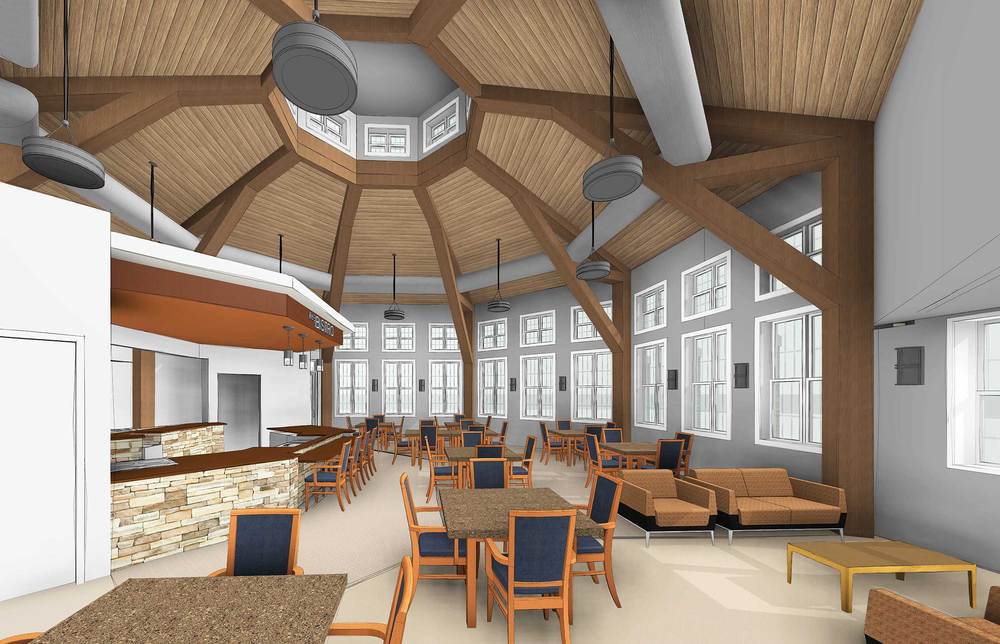 Laurel Lake Retirement Community in Hudson will break ground for the construction of a new Bistro, Pub & Colony Shop on May 11, 2015. The project is Phase I of a multi-year Town Center Expansion Plan to renovate and expand Laurel Lake's core campus amenities.
The 150-acre active lifestyle community, located between Cleveland and Akron, is working with conceptual designer Shekhar Bhushan, AIA, President of SB Architecture in Centennial, Colorado, and Perspectus Architecture of Cleveland, Ohio on a strategic plan to transform Laurel Lake's existing 100,000 sq. ft. Commons into a spacious new, amenity-rich Town Center. Hudson-based Augere Construction has been selected as the general contractor for Phase I.
The Bistro & Pub will bring a fresh new casual dining experience to Laurel Lake and increase the community's number of on-site restaurants to three. The new space will double as a coffee shop and new, larger Pub and occasional Sports Bar for those "Big Game" days, serving wine, beer and spirits.
Outside, the Bistro's New England-style exterior will echo the same stone-and-shake architectural elements found elsewhere on the campus, creating a distinct "lighthouse" feel.
Inside, residents and their guests will be welcomed by a spacious new Lounge with resort-style, 360 degree central fireplace surrounded by comfortable seating groups where residents may gather and socialize. An alcove will showcase the community's Steinway grand piano.
The octagon-shaped Bistro will have dramatic high ceilings with exposed wood beams topped by a cupola, and wrap-around windows allowing plenty of natural light. Bistro seating will easily accommodate 60 people with ample room for larger gatherings to "spill over" into the neighboring Lounge area. The attractive bar will offer both comfortable low seating and standing room, while a self-serve Beverage Station will allow residents and their guests to access complimentary refreshments 24 hours a day.
The relocated and expanded Colony Shop will better serve the Laurel Lake community as a mini-grocery store and gift, card and snack shop, with plenty of room for customers to browse.
Construction is slated to begin in May, weather permitting, and should take approximately 8-10 months.
"For 25 years, Laurel Lake has offered much more than maintenance-free homes in a beautiful campus," says David Oster, Executive Director. "Our innovative connected campus design promotes a close-knit community where residents are inspired to embrace life, stay healthy, and pursue their passions. These improvements to our Town Center will offer the perfect blend of services, amenities, and atmosphere for current and future residents to enjoy."