Town Center Phase 4 Construction Underway
Wednesday, July 15, 2020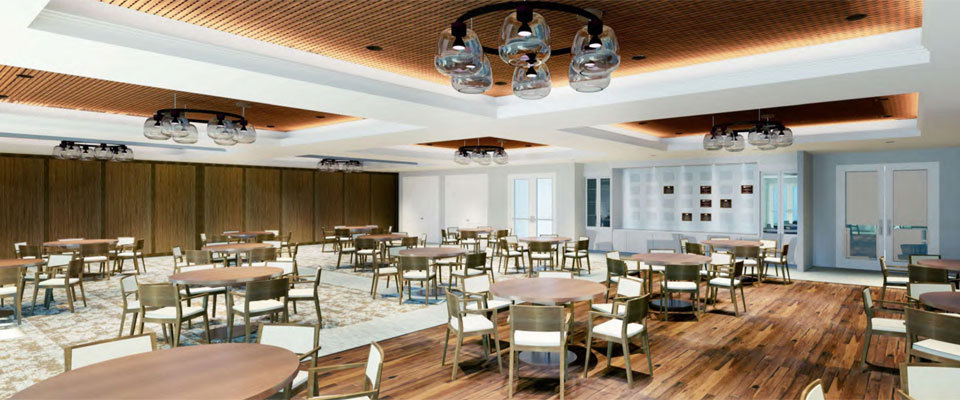 SCROLL DOWN TO VIEW PROJECT DRAWINGS
After two years of planning, this Spring Laurel Lake started construction on Phase 4 of our Town Center Expansion, a campus revitalization project which began in 2015.
Phase 4 will transform Laurel Lake's Community Room and Mixing Place into a larger, brighter, more elegant space that can easily convert for any use, ranging from small-group activities to major concerts and parties.
A newly enclosed Pat's Patio multi-use room with timbered ceiling, sunny windows and adjacent outdoor patio seating will create another much-needed meeting place while adding overflow dining seating.
The "Old Pub" will be transformed into another multi-use room opening to both the Main Street corridor and our largest dining venue. Lakeside Dining Room itself will get a fresh new look and accommmodate both menu dining and buffet service with the installation of a professional hot/cold buffet fixture with cooking station.
Laurel Lake has partnered with Shekhar Bhushan of SB Architects, RDL Architects and Summit Construction to complete this project. While onsite, these contractors work in a restricted environment in full compliance with Laurel Lake's COVID-19 precautions, including health screens and face coverings.
We are excited about Laurel Lake's Phase 4 design, the result of two years of collaboration between resident and staff leadership and numerous meetings of this strategic planning group.