Laurel Lake to build new Wellness Spa
Tuesday, October 18, 2016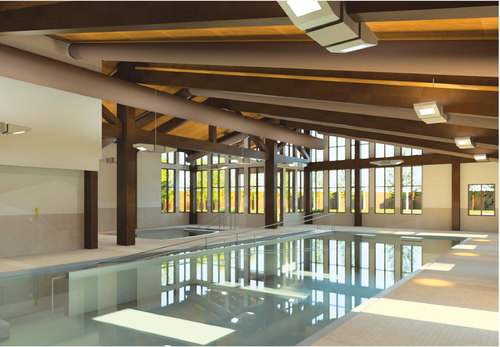 SCROLL DOWN TO VIEW PLANS AND DRAWINGS
The excitement is building as Laurel Lake passes the halfway point of its 2-year, roughly $7.3 million Town Center Expansion.
This major campus revitalization project is expanding and renovating Laurel Lake's core active lifestyle amenities, which were designed and built nearly three decades ago to serve a smaller community. Today, Laurel Lake's booming population of increasingly health-conscious individuals is placing greater demand on its health and fitness facilities than ever before, so this renovation is vital to the ongoing success of our thriving "small town."
The project is being funded through a combination of capital reserves, bank financing, and The Laurel Lake Foundation's Town Center Capital Campaign.
Phase I—the construction of the new Bistro & Pub, Fireside Lounge and Colony Shop—began in May 2015 and was completed within seven months.
Phase II, to be completed soon, includes a spacious new, state-of-the-art Therapy Center; a dedicated Arts & Crafts Studio with Gallery; the renovation of "Main Street," Laurel Lake's main thoroughfare connecting all of its central amenities to its residential neighborhoods; and updates to key support offices and employee break rooms.
Now the community has released details about what promises to be the centerpiece of its revitalized Town Center—the gorgeous new Wellness Spa (scroll down to view plans and drawings).
In Phase III, the community will replace its original pool, fitness room and beauty shop with a brand new Wellness Spa, featuring a significantly larger Fitness Center with Aerobics Studio, an Aquatic Center with exercise and therapy pools, and an upscale Spa Salon.
Building strength for daily living and combating age-related physical challenges will be easier in Laurel Lake's spacious new Fitness Center, which will have plenty of floor space for an expanded line of "smart" exercise equipment. Floor-to-ceiling windows will offer amazing year-round views of the Greenwood Courtyard, while multiple ceiling-mounted TVs will make longer workouts on treadmills, bikes or the elliptical machine more appealing.
In the never-before-offered Aerobics Studio, residents will experience group exercise classes in a more private, dedicated space large enough to accommodate 60 "on the move" individuals. Cardio classes, Yoga, Tai Chi, personal training sessions and more will be offered in this new space.
In the Aquatics Center, swimmers will enter Laurel Lake's new 60-foot Exercise Pool effortlessly using the "zero entry" ramp. The big pool's flexible design will easily accommodate lap swimmers, water aerobics classes, wheelchair aquatic therapy users, and family fun when the kids and grandkids come for a visit. In addition, the new 20-foot Warm Water Therapy Pool will be ideal for relaxation, one-on-one therapy sessions, and more specialized small aquatic classes. Floor-to-ceiling windows on two sides of the new Aquatic Center will create an outdoor feeling all year long.
In the luxurious, optimally-sized new Spa Salon, residents can pamper themselves with a menu of rejuvenating personal care services—manicures, pedicures, facials, color, cut, and style—to look and feel their best.
Construction of Phase III, the Wellness Spa, will begin in November and continue through next Summer.
Laurel Lake is excited about this next chapter of the community's history. The organization looks forward to serving the needs and wants of current and future generations of residents, their families, and our dedicated employees by offering the very best services and amenities possible.